CHAT TO OUR STONE EXPERTS:
Monochromatic textures of silver travertine will enhance the luxury of your space…
Silver travertine tiles and pavers exude luxury. As a result, many architects and designers choose this stone to create a "marble look" without the impracticality of dealing with marble stone.
However, silver travertine has a lot of practical benefits. Subsequently, silver travertine tiles and pavers are a smart choice to achieve a similar look.
Silver travertine pavers and tiles showcase a palette of silvery greys, white and charcoal swirls and flecks. They enhance a space with just a touch of drama. Therefore, you can get a striking look without looking too over the top.
Simply, they look great in a myriad of settings. This includes indoor and outdoor applications. Due to its predominantly cool grey appearance, these tiles and pavers are easy to style. So, you can be quite liberal with your surrounding furnishings without worrying about clashing colours. These travertine tiles have been used in both modern and traditional home designs effortlessly.
Also, many landscapers and renovators love the way silver travertine enhances the cool blue tones of their pool or pond area.
Add silver travertine for a striking design statement…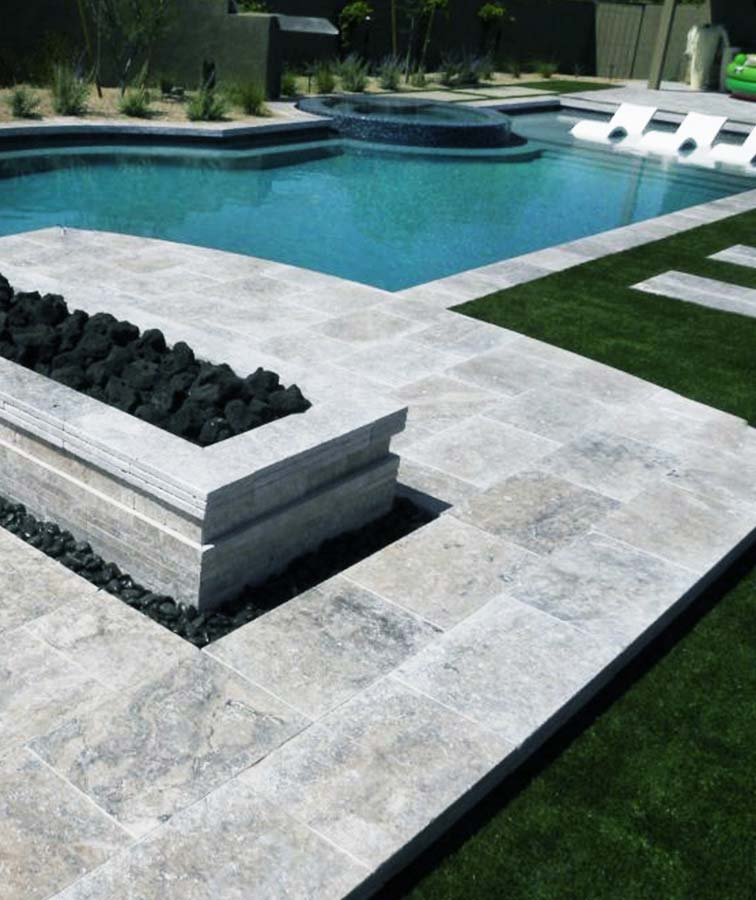 For chic and practical tiles and pavers, silver travertine works…
TRAVERTINE TILES WAREHOUSE
QUALITY GUARANTEE
100% PURE NATURAL STONE
There will never be any man made fillers or cheap substitutes in any of our stone products. 
SOURCED FROM ONLY THE WORLD'S BEST QUARRIES
As a commitment to quality, our stone experts deal directly with the world's best quarries.
LIFETIME QUALITY GUARANTEE
All our stone meets stringent standards for residential and commercial use in Australia and New Zealand.
At Travertine Tiles Warehouse, we stand by the quality of all our products.
2/12 Prince Highway, Doveton VIC