A modern marvel made from almost completely from travertine…
Side view of this stunning travertine home for a local stone seller.
Iranian architectural CAAT Studio, created a cutting edge architectural marvel with travertine.
The client is a local stone seller and cutter. So, the house was made as a celebration of the beauty of travertine stone. As a result, the whole house is covered with solid travertine bricks arranged in an eye-catching wave-like pattern. These bold structural spacial divisions of the travertine bricks create rhombus-shaped curtains embracing the windows. The cascading positioned travertine bricks create interesting patterns with contrasting shadows on the exterior of the house.
Travertine was chosen in this house design because the client wanted to showcase the beauty of the stone as well as show off his trade as a local stone seller and stone cutter. Travertine also provided the house with strength, light and ventilation. Additionally, it was easily available from the two large travertine quarries (Hajiabad and Abbasabad).
The client's house is located in a town surrounded by mountains called Mahallat (262km south-west of Tehran). This region is known for being rich in travertine stone with two quarries located nearby.
This arrangement creates a striking contrast with light and shadows with alternating voids creating a stunning display of depth and dimension reflecting from the hot, arid climate of the region.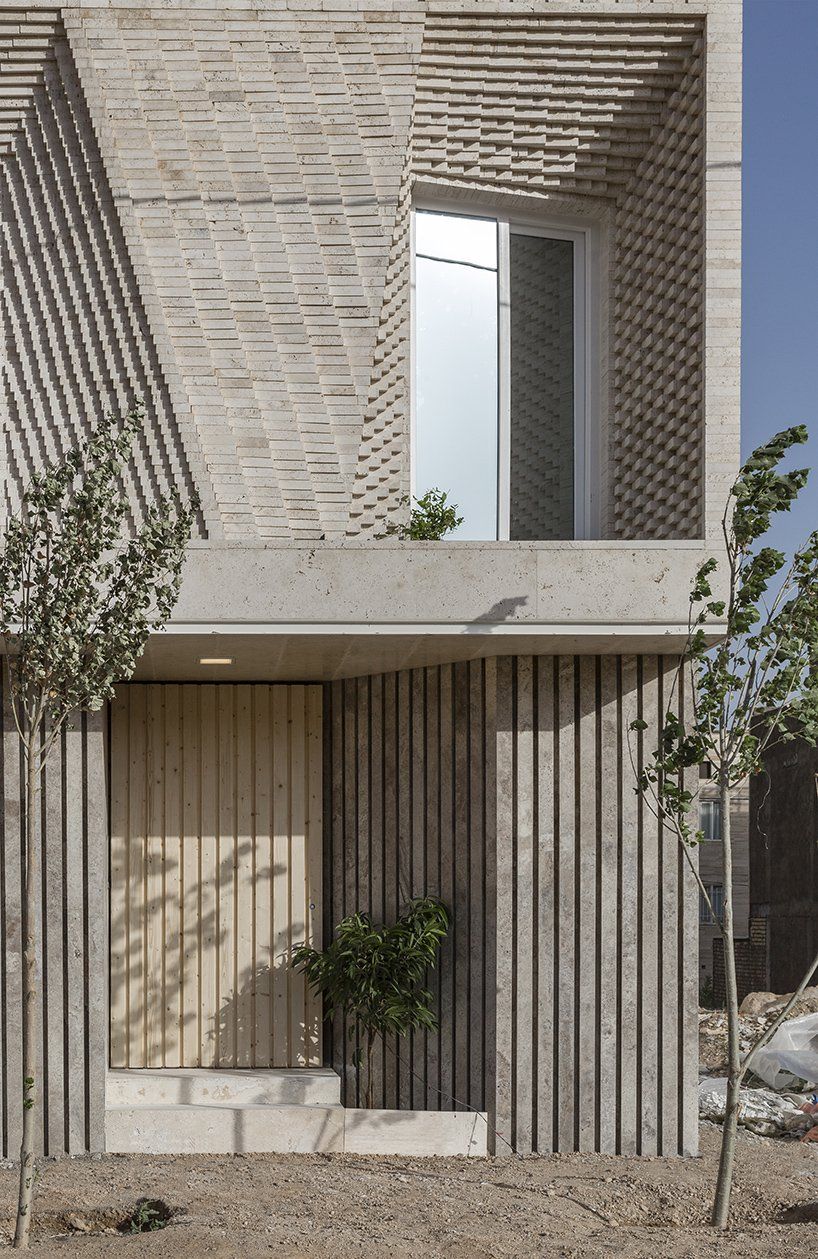 The front entrance of this beautiful house made almost entirely of travertine stone.
At the base of the house, where the garage is situated, vertical sections of travertine scale up to the second level.
Each travertine piece was cut in L-shaped pieces to reduce the weight of the stone. With a focus on sustainability, nothing was put to waste, with the left over travertine stone being used to fill parts of the walls.
Each window was positioned to get the best vantage point of the surrounding mountains.
The project started with purchasing a simple box-shaped house. The goal was to utilise the amazing views of the quarries, a local copper mine and the surrounding mountains. Therefore, the position of the windows was decided based on creating the best possible views. The walls, ceiling and floors run seamlessly together as though they are made from one piece. Organically, the walls 'flow' from one window to another creating a wave-like appearance.
In addition to this aesthetically pleasing house, this travertine house proved to be an economical and environmentally friendly project.
Photography by: Parham Taghioff
[title text="Get the look with Ivory Travertine:"]
[ux_products cat="171″]